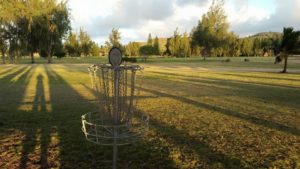 Our Year End Monthly will be back at the Turtle Bay Resort Disc Golf Course on Saturday, December 30, 2017.
Players Meeting at HDGA Tent: 9:30AM sharp!
We plan on playing 2 rounds of 12 for the official monthly, with a break in between rounds for lunch and our Annual General Membership Meeting.
Stick around, we will definitely have some special year-end surprises!
The course fee is $10 for non HDGA members, and $3 for current 2017 HDGA members. Division fees are $10 for Open and AM1 divisions, and $5 for AM2 & Women's Div.
If you're not interested in prizes you can opt to play without paying a division fee. We will also have a $2 CTP hole and a $1 Ace pot. If you've never played at the Turtle Bay Disc Golf course, please take a look at the parking map to see where the course is located. See you all there!