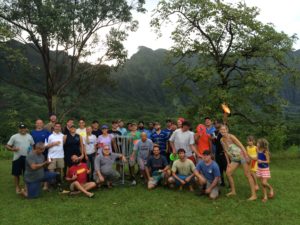 HDGA events are open to all players, and no preregistration is needed to play. HDGA recognizes Men and Women divisions in levels of Open, Amateur, and Recreational players. As you would expect, Drugs and Alcohol are prohibited from HDGA events, and in all State and County parks.
There is a $5 insurance fee for non HDGA members. Our monthly events are held on permanent and temporary basket courses, by use of special permit as a one round (or day) event at City or State parks, and the HDGA must carry an insurance rider for all events held at State or City & County public parks. Club memberships are available for $25 at all of our monthly events and includes yearly insurance and discounts on Club disc purchases and registration for the Flyin Hawaiian Open tournament. Volunteers are ALWAYS welcomed to help with course and setup when needed. For more information contact:

You must enable JavaScript to see this text.
The following is a tentative schedule for HDGA events in 2020:
NOTE: All monthly player's meetings will take place @ 9:30AM unless otherwise noted. Also, all monthlies will be held on Saturdays, unless you see an asterick "*" following the date.
January 25th – Kupuohi
February 29 – Wahiawa Freshwater Park
March – CANCELED
April – CANCELED
May – CANCELED
June – CANCELED
July – CANCELED
August – CANCELED
ALL OFFICIAL HDGA MONTHLY EVENTS ARE CANCELED THRU 2020
GET READY FOR 2021 AS WE ARE PLANNING TO RUN THE 26TH ANNUAL FLYIN HAWAIIAN OPEN OVER THE WEEKEND OF MARCH 6-7, 2021 AT HO'OMALUHIA BOTANICAL GARDEN.