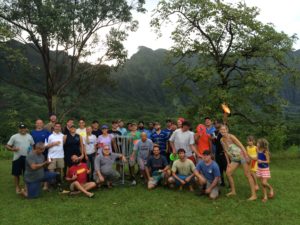 HDGA events are open to all players, and no preregistration is needed to play. HDGA recognizes Men and Women divisions in levels of Open, Amateur, and Recreational players. Drugs, Alcohol, and Tobacco related products are prohibited at most HDGA events, and in all State, City, and County parks.
There is a $5 insurance fee for non HDGA members. Our monthly events are held on permanent and temporary basket courses, by use of special permit as a one round (or day) event at City or State parks, and the HDGA must carry an insurance rider for all events held at State or City & County public parks. Club membership's are available for $35 online, or at all of our monthly events and includes yearly insurance and discounts on Club disc purchases. Volunteers are ALWAYS welcomed to help with course and setup when needed. For more information contact:

You must enable JavaScript to see this text.
All monthly player's meetings will take place @ 9:00AM unless otherwise noted. Also, all monthlies will be held on Saturday's, unless you see an asterick "*" following the date.
2023 HDGA Tentative Schedule
January 28 (Saturday) – Wahiawa Freshwater Park – (Directions to Park)
February 25 (Saturday) – Kapapapuhi Point Park (Loch Ness) –

March 25 (Saturday) – Sand Island/ (Membership Meeting) –

April 29, 30 – The Challenge at Ho'omaluhia 

May 20 (Saturday) – Kai'aka Bay Beach Park – REGISTRATION

June 17 (Saturday) – Wahiawa Freshwater Park / Membership Meeting – REGISTRATION (Directions)

July 22 (Saturday) – Waimanalo Intermediate School – School Supplies Fundraiser – REGISTRATION (Directions)

August 26 (Saturday) – Kapapapuhi – Loch Ness – REGISTRATION  (Directions to Loch Ness)

September 23-24 (Saturday/Sunday)– Ho'omaluhia (Flyin Hawaiian Open)  

October 28 (Saturday) – Sand Island State Recreation Area – REGISTRATION (Directions to Sand Island)
November 18 (Saturday) – Sand Island Monthly – REGISTRATION (Directions to Sand Island)

December 30 (Saturday) – Kai'aka Bay Beach Park – (Year End Monthly, Lunch, Raffle, and Bag Tag Challenge)
2023 Statewide Disc Golf Events
Big Island Open – Jan 14-15 (Kohala Winds)

Jan 21 Breaking the Chains (Lava Links)

March 11-12 Maui Open

April – PIP Maui

April end of the month – Kohala Winds Classic 2

May 27-28 – Kilauea Krush 2 (Lava Links/Gargoyles)

June 11-12 ODGL Championships

June 24-25 Hawaii State Disc Golf Championships

September 23-24 – Flyin Hawaiian Open @ Ho'omaluhia 

Oct 28-29 – Revenge of the Trees (Gargoyles)